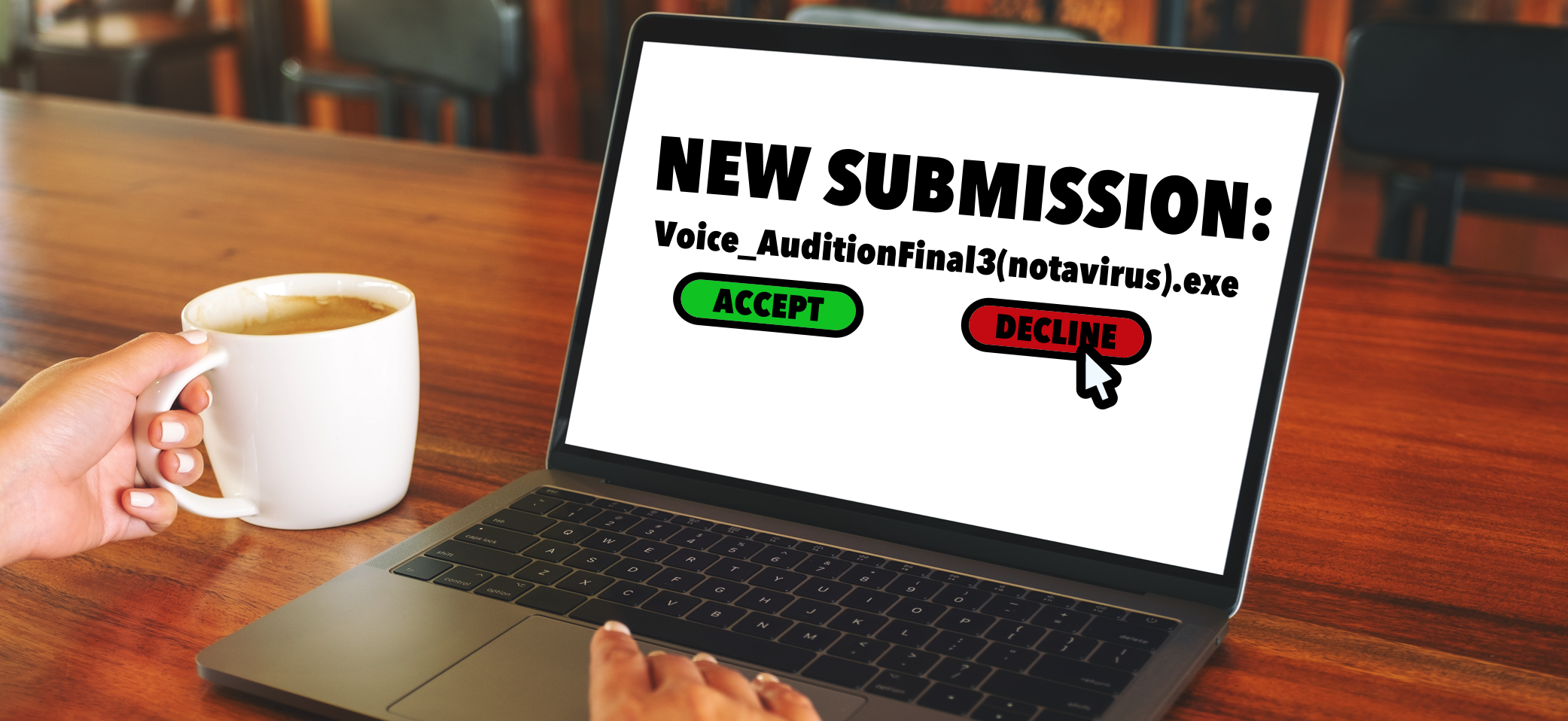 June 2, 2023 2:21 pm
Leave your thoughts
   In the world of sending audio files, whether it is a finished voice-over job from your home studio to a client, an audition for an agent or online casting site, a sample read for an author's audiobook, or telling a studio engineer what to put on the file name, we must be diligent about labeling our work, as in audio files, correctly. 
   To dramatize the point I'm trying to make here, I will make up a voice actor and attach them to an actual situation I saw played out on LinkedIn, a popular platform that voice actors and voice hirers use. Ready? Let's go.  
   Cue the music: Calm, yet inspiring, classical music plays in the background. We see an aspiring and eager voice actor getting ready to record an audition in her home studio. It used to be a closet (it still is sometimes when the in-laws are in town.) Let's call her Meg. No…June. I like June better.
   June is excited about this audition. It's the first one she has received from a local production house, after meeting the owner at a party. The "specs," meaning the specifics of what the client wants for this 30-second commercial, are "female in her 30s." June smiles widely, "That's me!" she thinks to herself. The specs also want someone "with good comedic timing." She's on the verge of getting cocky now because, if given the opportunity, she could make a dead man laugh. 
   There are also specific instructions on how to deliver the audition, which read as "Please give two takes. Please label your .mp3 with your first name, last name, location and astrological sign." June stops for a moment and thinks, "My astrological sign? That's weird." She's right. That never happens. Author's embellishment. 
   June gets all set up in her booth, has made her creative choices, and records her audition. She's jazzed and totally connected to the script; the words flow off her tongue as if she wrote them herself. She does about five "takes", meaning she does the commercial five times, varying it up a little each time. After having a total blast, she picks the best two that sound a little different from each other, showing her versatility.   
   She listens back to her audition and tries not to think she's the best thing since sliced bread, but the audition is so good, authentically her, and effortlessly funny, that it's hard not to. She starts thinking ahead to booking the job and the recording session and getting paid, quickly labels her .mp3 audition with her name while still daydreaming happily, uploads it, and hits send! The rest of the day is a breeze and she sleeps like a baby. 
   The next day June rises with the sun and is whistling over coffee while checking her emails. A bluebird perches on her shoulder as she reads a post on LinkedIn by the owner of the production house she auditioned for yesterday. It reads, "Voice Actors! For the love of everything holy, read the labeling instructions for your auditions! I sent half the auditions straight to the trash yesterday, without listening, because they were not labeled correctly! Harumph!" 
   June freezes, gulps, and checks the name of the .mp3 audition she so exuberantly sent yesterday, which says only "June Swift." She completely forgot to put her location and that she is a Scorpio (with a Sagittarius rising.) "Nooooo!!!" she cries out, spilling her coffee and seriously scaring the bluebird. 
   I'd like to say there was a happy ending for June, but there wasn't. The audition she was so proud of, got dumped without ever being heard. Luckily, she learned a great lesson, which actually is a kind of happy ending of sorts. Let's call it a good beginning of good work habits. 

   From the client's perspective, if a voice actor doesn't follow simple instructions for an audition or the naming of an audio file, they may doubt the voice actor's ability to follow any instructions at all, or the ability to listen and take notes. I mean, if they can't name an .mp3 what's their invoice going to look like? It shows a lack of attention to detail, and excellent work is often in the details. 
   I'm sure I've fumbled a labeling or two in my time to my detriment. Maybe I was in a rush or daydreaming like June. Although June is not real, that LinkedIn post was, and I've been far more meticulous in labeling since seeing it. I work hard at my craft and would prefer it be heard than tossed in the digital trash. I'd prefer my work be received with a grateful sigh of contentment, instead of with annoyance at my lack of instruction taking. How about you?  
  To sum it up, do yourself a simple favor by double-checking the labeling instructions before you send any audio files. It will take far less of your precious time than regretting that you did it incorrectly will.:)
Categorised in: Blog
This post was written by Simone Stevens