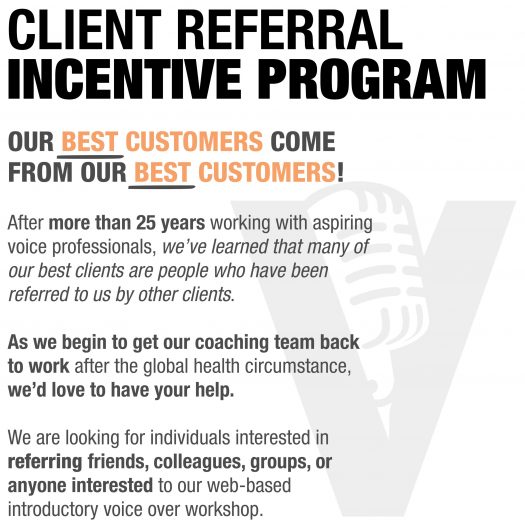 First:
Contact Laura, Will, or Jenelle at our office and they'll provide you a personal promotional code that you can share. The code will allow the person or group you are referring to attend a workshop for $15 instead of full price, which is $30.

Next:
We'll provide you an easy link that you can share with friends, coworkers, groups, or anyone you choose that will provide class details and information along with a list of upcoming classes to choose from.

Finally:
Share away! Share the link along with your unique 50% off code with anyone who you think might enjoy a single-evening upbeat and informative introduction to the voice over field.

FOR EACH PERSON WHO USES YOUR PROMO CODE TO ENROLL IN A SINGLE EVENING WORKSHOP, WE'LL PAY YOU.......... $10.

AND... FOR ANY INDIVIDUAL WHO USES YOUR PROMO CODE AND CHOOSES TO PURSUE A PROGRAM WITH US,
WE'LL PAY YOU.......... $100.

*PLEASE NOTE: As you know Voice Coaches requires a speech and voice evaluation at the onset of training. We reserve the right to discontinue training with those who do not meet basic speech language requirements. Affected clients are granted a full refund. In this case a referral fee would not be provided.*
To get your promotional code or for questions, please give our studios a call:
866-887-2834 or email

[email protected]

.
After the past 18 months we are committed to getting our coaching and production team back to work and we are thrilled to offer this incentive. On behalf of Josh, Tom, Jenelle, Laura, Marissa, John, Katie, Brett, Danette, Will, Jordan, Dan, Josh Z, Kristin, Jocelyn, Chris, Anna, and David, our sincere thanks!