PROMO CODE REFERAL PROGRAM
EVER BEEN TOLD YOU HAVE A GREAT VOICE?
JOIN US FOR A LIVE, single-evening interactive WEB-BASED CLASS designed to introduce communication professionals, educators, groups, and interested individuals to today's voice over field.

We welcome you or your group to join us for an upbeat, realistic introduction to professional voice over also known as voice acting. From audiobooks and educational material to web-based content, training material, commercials and more, many of the skills used in today's voice over field are also important in effective professional communication. This class is fun, motivating and a tremendous first step for individuals curious about the voice over field.
Simply share this link along with your unique promotional code.
The link will provide a workshop description, a list of upcoming workshops, and a secure enrollment form. Any enrollee from your group using the promotion code can purchase the workshop at a
reduced rate
of
$15
.
LINK:
voicecoaches.com/enroll
Have any questions:
Our studios and offices are available to answer questions or assist further. We welcome you to phone
866-887-2834
or email
[email protected]
.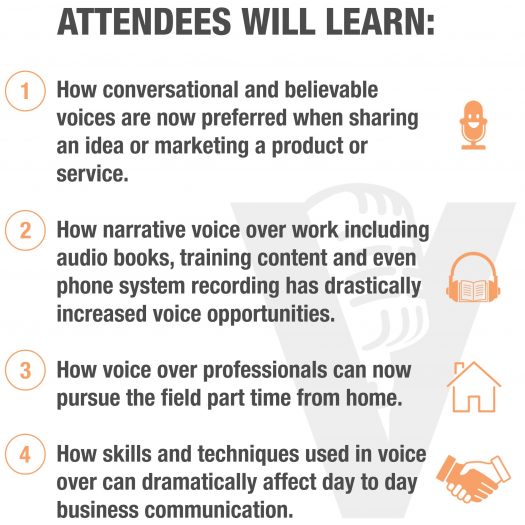 For more than 25 years
, Voice Coaches has provided
realistic, engaging and personalized communication workshops, training and voice over education to clients across the US and Canada
. In addition, our studios produce audio content for clients including Netflix, Discovery, Nickelodeon, HGTV, Lifetime, WE Network, PBS and numerous others.
Learn more about us at
www.voicecoaches.com
or phone
866-887-2834
.
Our full-time team is dedicated to providing exceptional and engaging education in a manner that's tangible, inclusive and fun.
Take Our Live Web-Based Introductory Class