Voice Coaches Team
Paul is a career broadcast and voice acting professional. Beginning in radio as a teen in Mississippi, Paul pursued education in radio and television and relocated to the New York City area. Paul has voiced work for a broad range of clients including CNBC and the Financial News Network.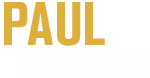 Producer / Voice Development
In addition to his work as a Voice Actor, Paul is an experienced educator who has lectured on advanced computer applications around the world, including India and Malaysia.
Paul lectures on Voice Acting across the US and Canada.