Voice Coaches Team
With more than 25 years providing compositions and audio post-production for film, television, advertising, and multimedia, David's clients include Discovery Networks, TLC, HGTV, and WE Network as well as numerous regional, local, and government agencies and businesses.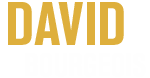 President and Creative Director
In 1990, David began developing training methods in effective recorded communication. David's methods became the model for the Voice Coaches individualized training process.
In addition to his role with Voice Coaches, David currently develops television concepts with business partner Evan Farmer.