Voices In Demand for Radio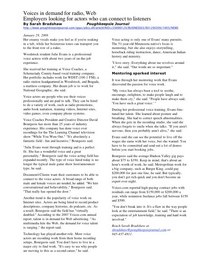 Voices In Demand for Radio
By Sarah Bradshaw | September 2008
Her creamy vocals make you feel as if you're soaking in a tub, while her boisterous tones can transport you to the front row of a rodeo.
Woodstock resident Julie Evans is a professional voice actress with about two years of on-the-job experience.
She received her training at Voice Coaches, a Schenectady County-based vocal training company. Her portfolio includes work for WDST (100.1 FM), a radiostation headquartered in Woodstock, and Bragada, a mattress company. Her dream job is to work for National Geographic, she said.
Voice actors are people who use their voices professionally and are paid to talk. They can be hired to do a variety of work, such as radio promotions, audio
book narration, training videos, Internet sites, video games, even company phone systems.
Voice Coaches President and Creative Director David Bourgeois has more than 25 years of industry experience. His company has done voice over recordings for the The Learning Channel television show "While You Were Out." "It's absolutely a fantastic field – fun and lucrative," Bourgeois said.
"Julie Evans went through training and is a perfect fit. She has a wonderful voice and a great personality." Bourgeois said the voice acting field has expanded recently. The type of voice hired today is no longer the typical male game show host/announcer type, he said.
Clients want their customers to be able to connect to the voice actors. A broad range of both male and female voices are needed, he added. "We hire conversational and believability," Bourgeois said. "That really has opened the door."
Another trend is the popularity of voice work on Internet sites. Actors are being hired to record product descriptions, company histories, do podcasts, etc.
As a result, Bourgeois said the field has "virtually doubled." According to the 2007 Voices.com annual report, talent is in demand for Web advertising. "As multimedia hits the Web, the demand for voice talent is surging," the report said.
Technology has played another role. More voice actors are recording work from their home recording setups, Bourgeois said. You don't have to live in a major city to find work. "It's easy to see why people are moving to this as a second career," he said. Voice acting is only one of Evans' many pursuits. The 51-year-old Minnesota native's focus is mentoring, but she also enjoys storytelling, horseback riding instruction, dance, American Indian history and ministry.
"I love story. Everything about me revolves around it," she said. "Our words are so important."
Mentoring sparked interest
It was through her mentoring work that Evans discovered the passion for voice work.
"My voice has always been a tool to soothe, encourage, enlighten, to make people laugh and to make them cry," she said. "People have always said, 'You have such a great voice.' "
During her professional voice training, Evans fine- tuned her talent. She learned about posture and breathing. She had to correct speech abnormalities. When she gets in the recording studio, she said she always forgets to smile when she talks. "If you aren't nervous, then you probably aren't alive," she said.
Evans said she can see the potential to live off the wages she earns with her voice, but she warned: You have to be committed and send out a lot of demos
before you start booking jobs.
Bourgeois said the average Hudson Valley gig pays about $75 to $350. Keep in mind, that's about an hour's worth of work, he said. Metropolitan work for a big company, such as Burger King, could pay $200,000 for just one line, he said. But typically, you don't get rich quick and you don't become an expert over night.
Voices.com reported high-paying contract jobs with residuals can range from $150,000 or $200,000 a year, while nonunion freelance jobs fall between $150 and $500.
"You don't break into it. It's a flaw in the way people look at the entertainment field," he said. "There is an expectation of job knowledge, training and hard work involved."
Reach Sarah Bradshaw at [email protected] or 845-437-4811.
Bookmark the permalink.