Voice Work Becoming Big Business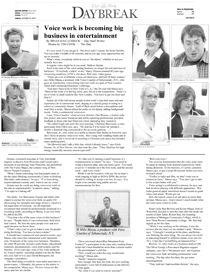 Voice Work Becoming Big Business
By Brian Hallenbeck 10/19/2007 | October 2007
It's nice work if you can get it. The dress code's casual, the hours flexible. You can make a bundle in 60 minutes, and as you age, your opportunities are apt to increase. What's more, everybody refers to you as "the talent," whether or not you actually have any.
A regular voice might be all you need. Male or female.
Such is the state of the voice-acting business, no longer the sole province of baritones. "Everybody's talkin' at me," Harry Nilsson crooned 40 years ago. Answering machines, ATM's, elevators, Web sites, video games.
"There are a lot of different voices out there now, and half of them women," says Mike Massa, a producer with Voice Coaches of Schenectady, N.Y., who gave an introductory voice-acting class last week as a part of New London Adult and Continuing Education's offerings.
"You don't have to be in New York or L.A.," the 26-year-old Massa says. "Most of the work is in the big cities, sure, but so is the competition. There's a lot of work in small markets like New London. You have to get out there and find it."
Nearly all of the half-dozen people in last week's class had some relevant experience, be it commercial work, singing in a church group or acting in a school or community theater. Each of them stood before a microphone and read from a script. Massa edited the audio on his laptop, adding background music. Voila, a commercial voice-over.
Later, Voice Coaches' client services director, Don Bowers, a former radio disc jockey and career broadcast and public-speaking professional, provided feedback to those who had filled out a form indicating they wanted it.
"He called bright and early the next morning," Christine Benvenuti, a class participant from Old Lyme, says. "He told me I'd be better for narrative … maybe a diamond ring commercial or for an exotic getaway. …"
Benvenuti, 41, who works as a stylist at Details Hair Studio in Norwich, says she's likely to pursue voice-over work. She's sung with wedding bands and in church choir, and is involved in recording a Christian rock opera that includes some speaking parts.
"He (Bowers) said I talk a little fast, which I already know," says Erich Greene, 36, of New Haven, who also took the class. "They liked me for high-energy (material), sarcasm, emcee-type stuff."
Greene, a research associate at Yale who holds degrees in physics from Princeton and Cornell and a doctorate in psychology from Princeton, has performed with The Funny Stages, the comedy wing of New Haven Theater Company.
"What I found interesting was that people came in (to the class) thinking commercials; I came in thinking film dubs, radio dramas," he says. "I've been doing improvisational comedy and I want to use my voice."
Greene says he could see doing voice-over work on the side to supplement his "academic salary," adding, "I'm open to it taking off."
The demo. For Benvenuti, Greene and others who expect to pursue the voice-over field, an audio CD showcasing the strengths and range of one's voice(s) is the equivalent of a resume. An all-important investment that should be professionally produced in a recording studio, according to Massa, it can cost from $1,400 to $4,500.
"You hear a lot of the same voices in this business," he says. "People think it's an exclusionary field (but) that's not it. We hire the same people over and over again because we know them.
"(That's why) you've got to make it easy for people doing the hiring. You have to have a demo."
It should have commercial and narrative tracks, says Massa, who notes that commercial work represents only 10 percent of the voice-over business. Narrative, the other 90 percent, includes audio books, educational materials, documentaries, voice-mail systems and the Internet. (Five years ago, none of the work produced by Voice Coaches' recording studios was for the Web; this year, half of it is, says David Bourgeois, the company's president.)
The other thing a would-be voice actor must have is perseverance. Ultimately, the person in the mirror is the competition, Massa says. No two voices are the same, and few are similar.
"It's like you're starting a small business; it's entrepreneurial in nature," he says. "You need to create a business plan, and you need a goal. You need to put in 15 minutes on it the first week, and the second week – and every week."
While it can be lucrative, with pay for an hour's work ranging as high as $450 to $500, the novice should be willing to accept a lot less, he says. You might even consider doing public-service announcements for free.
"Have you heard about Blue Mountain Fruit Coolers?" a participant in the class asks, reading from a script she's been handed no more than a minute earlier.
Her presentation's a bit flat.
"How would you make the copy sound more exciting?" Massa asks.
"Smile," someone suggests.
Sure enough, that does the trick, the now-smiling participant's voice full of enthusiasm as she delivers the line again.
"So, what if you need to convey sarcasm?"
"Roll your eyes."
The exercise demonstrates that the voice actor must be adept at reading fresh material expressively while taking direction. In the business, it's pretty common, Massa says, to get a script 60 seconds before you have to read it aloud.
"Unlike in radio and film, we don't want you to memorize lines," Massa says. "You don't get to take it (the script) home with you."
Voice acting's a collaborative process, he says, one that involves playing with different approaches. What looks good on paper sometimes doesn't sound so good when read aloud. Words get cut.
Still, the typical voice-over job takes no more than an hour, Massa says. And it doesn't much matter what the voice actor wears to work.
Sisters Julie Rue Browne and Krista Mingo, both of Waterford, decided to take the class after the death last month of their father, Robert Rue, the founding president of Mohegan Community Collage, which is now Three Rivers Community College. Mr. Rue had signed up for the class.
"While I was working on his obituary, I saw the invoice (for the class) on my mother's desk," Browne says. "I thought I would go in his place, and Krista was thinking the same thing. He was always involved in educating himself in different arenas, even into his 70's. I feel like I'm fulfilling an interest of his."
Browne, 31, who works as a business analyst with The Oliver Group, a Pawcatuck litigation-support company, says she's "90 percent sure" she'll pursue the voice-over field, including professional voice training. The day after the class, she got some encouragement.
"They told me I had excellent diction," she says!
Bookmark the permalink.