Voice Coaches Student Wins Emmy!
Voice Coaches Student Wins Emmy!
One of Voice Coaches' youngest students is now a bona fide Emmy winner! Congratulations to 11-year-old Jackson Murphy, who became the youngest person ever to be nominated for – and win – a NY Emmy Award.
On Sunday, April 18th, Jackson won one of the two Emmys he was nominated for, taking home the statue for "On Camera Talent: Commentator/Editorialist" at the 53rd Annual NY Emmys. He was also nominated in the category of "Entertainment Program."
Jackson trained with Voice Coaches in 2009 to develop his voice over skills and produce his demo. He added VO to his repertoire as a movie critic and the host of his own movie review show, Lights-Camera-Jackson, which airs weekly in the Albany, Syracuse and Binghamton, NY markets on Time Warner Cable's 24 hour news channels.
Jackson competed for the Emmy in a tough market, and he was awarded at a ceremony that was also attended by celebrities such as Paula Zahn, Dr. Ruth, Richard Belzer, Orlando Jones, and Sara Gore, among others.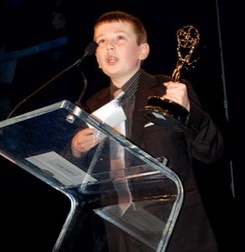 According to Jacqueline J. Gonzalez, Executive Director of the New York Chapter of National Academy of Television Arts and Sciences, "The New York Market, the number one market in the country, continues to be the most competitive and most difficult market to be nominated and to win an Emmy Award. This year we received a total of 1519 entries and we honor 495 nominees in 104 categories."
Congratulations, Jackson!
Bookmark the permalink.