Voice Coaches Sponsors Charity Event
Voice Coaches Sponsors Charity Event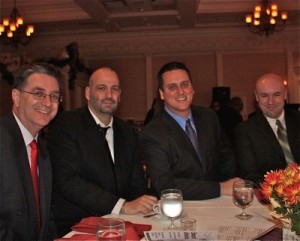 (l to r: Warren Garling, John Gallogly, Mike Spring, and David Bourgeois of Voice Coaches)
Voice Coaches was very excited to sponsor an exciting and worthwhile charity event on Sunday, November 22nd.
The Hamilton Hill Arts Center, an organization that promotes cultural art, music, and dancing among at-risk children and families, held its annual Charity Gala at the Glen Sanders Mansion in Scotia, NY, and we couldn't be more proud to be the evening's top sponsor. Voice Coaches President David Bourgeois, Vice President Anna Bourgeois, Creative Director John Gallogly and his wife, Director of Marketing Warren Garling and his wife, and Director of Communications Mike Spring attended the event, which featured an evening filled with African drumming, dancing and music.
Voice Coaches President and Creative Director David Bourgeois said of the event, "We had a terrific time, and we're delighted to provide support to Hamilton Hill Arts Center. It is our sincere hope that the programs and opportunities the center provides will continue to promote creativity, pride, and positive self-image for children in our community. Voice Coaches is dedicated to preserving music and arts education, and we were very pleased to contribute to this wonderful event."
The Hamilton Hill Arts Center was founded over 40 years ago, and its mission is "to promote the knowledge, awareness, and appreciation of the arts and culture of African and African-Americans, thereby enriching the community and the Capital Region. The Hamilton Hill Arts Center blends African and African-American arts and culture with educational and character-building activities, and offers a safe and creative haven with positive role models. Youth who come to the Arts Center are encouraged to develop their artistic potential, learning many important life lessons in the process."
All of us here at Voice Coaches are extremely proud to contribute to such a wonderful organization!
Bookmark the permalink.