Their Voices are Everywhere!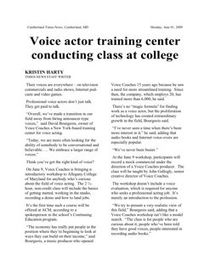 Their voices are everywhere!
By Kristin Harty | June 2009
Their voices are everywhere – on television commercials and radio shows, Internet pod-casts and video games.
Professional voice actors don't just talk. They get paid to talk.
"Overall, we've made a transition in our field away from hiring announcer-type voices," said David Bourgeois, owner of Voice Coaches, a New York-based training center for voice acting.
"Today, we are more often looking for the ability of somebody to be conversational and believable. … We embrace a larger range of voices."
Think you've got the right kind of voice?
On June 9, Voice Coaches is bringing n introductory workshop to Allegany College of Maryland for anybody who's curious about the field of voice acting. The 2 ½-hour, non-credit class will include the basics of getting started, working in the studio, recording a demo and how to land jobs.
It's the first time such a course will be offered at ACM, according to a spokesperson in the school's Continuing Education program.
"The economy has really put people in the position where they're beginning to look at ways they can build on their income," said Bourgeois, a music producer who opened Voice Coaches 15 years ago because he saw a need for more streamlined training. Since then, the company, which employs 20, has trained more than 6,000, he said.
There's no "magic formula" for finding work as a voice actor, but the proliferation of technology has created extraordinary growth in the field, Bourgeois said.
"I've never seen a time when there's been more interest in it," he said, adding that audio books and Internet voice-overs are especially popular.
"We've never been busier."
At the June 9 workshop, participants will record a mock commercial under the direction of a Voice Coaches producer. The class will be taught by John Gallogly, senior creative director of Voice Coaches.
The workshop doesn't include a voice evaluation, which is required for anyone who seeks a professional acting job. It's merely an introduction to the profession.
"We try to present a very realistic view of this field," Bourgeois said, adding that a Voice Coaches workshop isn't like a model search. "The class is for people who are curious about it, people who've been told they have good voices, people interested in recording audio books."
Bookmark the permalink.