Talking in Class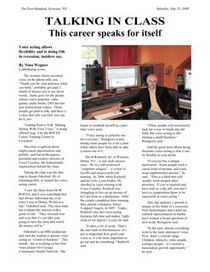 Talking in Class
By Nina Wegner | July 2009
The woman whose recorded voice on the phone tells you, "Thank you for your patience while you hold," probably got paid a chunk of money just to say those words. Same goes for the people whose voices populate video games, audio books, GPS devises and instructional videos. These people get paid to talk, and there's a class that tells you how you can do it, too.
"Getting Paid to Talk: Making Money With Your Voice," is being offered Aug. 3 by the BOCES Career Training Center in Liverpool.
The class is upfront about employment opportunities and pitfalls, said David Bourgeois, president and creative director of Voice Coaches, the Schenectady organization behind the class.
Taking the class was the first step to Susan Oaksford, 40, of Onondaga Hill, to launch her voice-acting career.
"I saw the fliers from OCM BOCES, and it was something that had always interested me, ever since I was at Disney World as a kid," Oaksford said. The class mad her evaluate her interest with a grain of salt. "They stressed over and over that it's not like your going to take the class and watch the money roll in."
Oaksford is an MRI technician and said she wanted to pursue voice acting as "a kind of freedom." This month, she is working on her first voice project for Cayuga Community Health Network. She hopes to establish herself as a part-time voice actor.
"Voice acting is certainly not for everyone," Bourgeois warns, noting some people try it for a time while others have been able to spin a career out of it.
David Rodwell, 60, of Winston-Salem, N.C., is one such success story. He is a self-confessed "corporate refugee" – a victim of layoffs and unsuccessful job hunting. In 2006, when Rodwell and his wife, Lynn Felder, 58, enrolled in voice training with Voice Coaches, Rodwell was struggling to live on an income of $15 per hour as a handyman. After the couple completed their training, they started a business, Silver Tongued Angels, in 2007. Today, Rodwell runs the voice-acting business full-time and makes "right close to six figures" a year, he said.
"It takes a lot of work. That's the real truth of this business. It's not so important how good your voice is, it's far more important to go out and do something," Rodwell said.
"Often, people will erroneously look for a way to break into the field, but voice acting is like starting a small business," Bourgeois said.
And the good news about doing freelance voice acting is that it can be flexible to your needs.
"Everyone has a unique motivation. Some people want a career kind of income, and some want supplemental income," he said. "This is a field that will usually work around other priorities. If you're married and have kids or a day job, you don't have to compromise those to be successful in voice acting."
Also, the industry's growth is unique in the midst of a recession. New technologies and a need for cultural representation in media have created a broad spectrum of new work, Bourgeois said.
"In the past, almost everything went to the male announcer voice. Now, there's a broad range. Children, ethnicity, older people, younger people – it's created a tremendous growth opportunity," he said.
Bookmark the permalink.