Speaking Engagement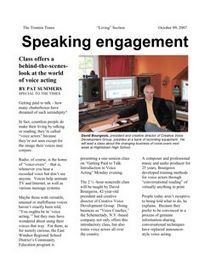 Speaking engagement
By Pat Summers | October 2008
Getting paid to talk – how many chatterboxes have dreamed of such serendipity?
In fact, countless people do make their living by talking or reading; they're called "voice actors" because they're not seen except for the image their voices may conjure.
Radio, of course, is the home of "voice-overs" – that is, whenever you hear a recorded voice but don't see anyone. Voices help animate TV and Internet, as well as various message systems. Maybe those with versatile, unusual or mellifluous voices haven't exactly been told, "You oughta be in 'voice acting,'" but they may have wondered about using their voices that way. For them, as for merely curious, the East Windsor Regional School District's Community Education program is presenting a one-session class on "Getting Paid to Talk: Introduction to Voice Acting" Monday evening.
The 2 ½ -hour noncredit class will be taught by David Bourgeois, 42-year-old president and creative director of Creative Voice Development Group. Doing business as "Voice Coaches," the Schenectady, N.Y.-based company not only offers this introductory class, but also trains voice actors all over the country.
A composer and professional music and audio producer for 25 years, Bourgeois developed training methods for voice actors through "conversational reading" of virtually anything in print.
People today aren't receptive to being told what to do, he explains. Because they prefer to be convinced in a process of genuine information-sharing, conversational techniques have replaced announcer-style voice acting.
In a lively informative phone conversation – something to be expected of anyone with his credentials – Bourgeois said the course is "crafted to be entertaining" and stressed its introductory nature. At most, it can provide answers to questions people may have.
The course will not equip registrants to start off in the field, although they'll learn what it takes to become a professional voice actor – from getting started through working in the studio and recording a demo to landing jobs. Those in class also will have a chance to record a mock commercial, directed by Bourgeois.
Of all the opportunities in the voice-over field, commercial work takes up just 10 percent of the total, Bourgeois says. The remaining 90 percent is noncommercial, or "narration," and can include educational resources such as audio books in schools; training videos; voice=mail systems; documentary, historical or travel materials; the Internet and video gaming.
Voice acting's an entrepreneurial field, Bourgeois says. It consists of having the right voice for the job, along with the personality that'll put you in a situation to get it. It can supplement other jobs or be a component of retirement.
In a surprising good news-bad news statement, Bourgeois says that the field can be very lucrative … but most people are not successful at it. They may keep up with the creative parts, but too often forget they're also running a small business. (The majority of small businesses, he reminds, fail in the first year.)
He recommends an additional motivation beyond money to be made: Love what you're doing. And Voice Coaches practices what it preaches: The company's Web site mentions "we love what we do. This may not seem important, but to the thousands of individuals (more than 5,000 people in 11 years) we've been fortunate to train, it made all the difference in the world."
How long does it take to break into the field? Bourgeois calls this "a bad question. That's what you do with a jewelry store."
Instead, he ticks off steps: You get information, do a demo, think about it, network with others in the field, build relationships … Unlike the old story of the starlet discovered on a soda fountain stool, becoming a voice actor takes concentrated hard work.
If after next week's class you decide to try to "get paid to talk" as a career, Voice Coaches also works on the professional training side. Its offerings include "premier training" for aspiring voice actors.
Neatly spelled out on the Web site, the program's features include private instruction that can take place either in the company's studios with high-end equipment or from the student's home via a telephone-link system. The initial session includes a student evaluation, and Voice Coaches can terminate training then if a client does not meet basic speech language requirements.
The program also includes intensive self-marketing training and provides network quality production of both commercial and narration demos.
"Here's listening to you, kid."
The "Getting Paid to Talk" class will meet at Hightstown High School Monday at 7 p.m. Cost is $32. To register, contact Jill Horowitz, (609) 443-7717, extension 2005.
For more information about training for professional voice acting, call (866) 887-2834 or look online (www.VoiceCoaches.com).
Bookmark the permalink.