Need a Job? Speak up!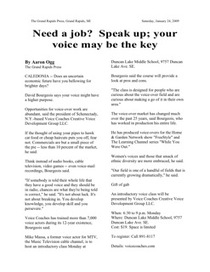 Need a job? Speak up!
By Aaron Ogg | August 2009
CALEDONIA — Does an uncertain economic future have you bellowing for brighter days?
David Bourgeois says your voice might have a higher purpose.
Opportunities for voice-over work are abundant, said the president of Schenectady, N.Y.-based Voice Coaches Creative Voice Development Group LLC.
If the thought of using your pipes to hawk cat food or cheap haircuts puts you off, fear not. Commercials are but a small piece of the pie — less than 10 percent of the market, he said.
Think instead of audio books, cable television, video games — even voice-mail recordings, Bourgeois said.
"If somebody is told their whole life that they have a good voice and they should be in radio, chances are what they're being told is correct," he said. "It's not about luck. It's not about breaking in. You develop knowledge, you develop skill and you persevere."
Voice Coaches has trained more than 7,000 voice actors during its 12-year existence, Bourgeois said.
Mike Massa, a former voice actor for MTV, the Music Television cable channel, is to host an introductory class Monday at Duncan Lake Middle School, 9757 Duncan Lake Ave. SE.
Bourgeois said the course will provide a look at pros and cons.
"The class is designed for people who are curious about the voice-over field and are curious about making a go of it in their own area."
The voice-over market has changed much over the past 25 years, said Bourgeois, who has worked in production his entire life.
He has produced voice-overs for the Home & Garden Network show "FreeStyle" and The Learning Channel series "While You Were Out."
Women's voices and those that smack of ethnic diversity are more embraced, he said.
"Our field is one of a handful of fields that is currently growing dramatically," he said.
Gift of gab
An introductory voice class will be presented by Voice Coaches Creative Voice Development Group LLC.
When: 6:30 to 9 p.m. Monday
Where: Duncan Lake Middle School, 9757 Duncan Lake Ave. SE.
Cost: $19. Space is limited
To register: Call 891-8117
Details: voicecoaches.com
Bookmark the permalink.