Money Where Their Mouths Are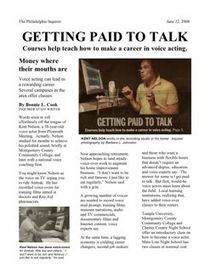 Money where their mouths are
By Bonnie L. Cook | June 2008
Words seem to roll effortlessly off the tongue of Kent Nelson, a 58-year-old voice actor from Plymouth Meeting. Actually, Nelson studied for months to achieve his polished sound, briefly at Montgomery County Community College, and later with a national voice coaching firm.
You might know Nelson as the voice on TV urging you to ride Amtrak. He has recorded voice-overs for training films aimed at doctors and Rite Aid pharmacists.
Now approaching retirement, Nelson hopes to land steady voice-over work to augment his home improvement business. "I don't want to be rich and famous; I just like to eat regularly," Nelson said with a grin.
A growing number of voices are needed to record voice mail prompt, training films, museum narrations, audio and TV commercials, documentary films and Internet content, voice experts say.
At the same time, a lagging economy is yielding career changers, second-job seekers and those who want a business with flexible hours that doesn't require an advanced degree, education and voice experts say. The answer for some is t get paid to talk. But first, would-be voice actors must learn about the field. Local learning institutions, realizing that, have added voice-over classes to their rosters.
Temple University, Montgomery County Community College and Chester County Night School offer an introductory class on how to become a voice actor.
Main Line Night School has two classes at nominal cost this fall. The introductory course will be offered Tuesday night at Temple's Fort Washington campus, and also at Montgomery County Community College's Blue Bell site.
"We're not looking for celebrities," said Rhonda Geyer, director of non-credit programs for Temple's Fort Washington campus. "We're looking for everyday people that somehow relate to this field." Students learn about inflection and phrasing, said Nelson, who took the course at MCCC. They recorded an experimental demonstration, which is the voice actor's marketing tool. They learn that jobs pay roughly between $125 and $300 for a short recording session.
"We tell people that you're essentially starting your own business, so don't quite your day job," said David Bourgeois, president of Creative Voice Development Group [Voice Coaches] in Schenectady, N.Y. The firm fans out across the U.S. and Canada to offer the introductory course.
The group also has trained about 6,000 people as voice actors in the last 15 years, and is seeing growth in demand for it's services in the Main Line and South Jersey markets, Bourgeois said.
The voice actors are half male and half female, and tend to be middle-aged, he said. While the male radio announcer used to be the norm, there's now a range of voice. Joanne Behm, manager of lifelong learning for MCCC, took the course herself, out of curiosity. In one exercise, the students read aloud for a radio commercial while the tape recorder rolled, she said.
Instructor John Gallogly added sound effects to give the tape an authentic feel. "When he added the music and other stuff, we sounded terrific," Behm said. "It's a good example of what one of those [voice coaching] companies can do for you."
Some go on to take an in-depth training course for $3,250 with Creative Voice Development Group [Voice Coaches.] The session includes a demonstration CD and marketing advice.
Allyson Joyner, 50, of South Philadelphia, took the in-depth course several years ago because she had always wanted formal voice training. She learned how to present her voice in a range of tones.
She learned to navigate a script on the fly, if need be, and found she was well-prepared. "I walked in and was handed a 26-page script from a company," Joyner said. "We had a four-hour session, and at the end of the session, they said, 'We're putting your name on a short list of preferred voice actors.'"
Joyner markets herself by sending her demonstration CD to organizations that she hears are "looking for a voice." If she gets the job, she'll do the recording at a studio off the company's site, such as the studios of WNWR (1540 AM) in Bala Cynwyd. "I love it. I absolutely find I have more range, more depth, more of an ability to do different things. Wow, what a surprise!" Joyner said.
Bookmark the permalink.