Making History In Our Studios!
Making History In Our Studios!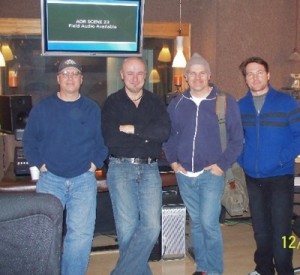 Pictured left to right: Producer Anthony Vertucci (Talon Films), Voice Over Supervisor David Bourgeois (Voice Coaches), Director Chris Stearns (Talon Films), and actor Peter O'Meara.
Voice Coaches was extremely pleased to welcome New York-based Talon Films to our main recording studios for dialogue re-recording and editing for their historical miniseries, American General. Slated for a national television run this summer, the film details historically accurate events in the life of Benedict Arnold.
American General stars Peter O'Meara, pictured above right, who was in from Los Angeles for the two-day session. O'Meara's previous work includes appearances in Band of Brothers, He's Just Not That Into You, Resident Evil: Extinction, Without A Trace, Alias, CSI: NY, and many other film and TV projects!
Voice Over Supervisor David Bourgeois (you might also recognize him as the President/Creative Director of Voice Coaches) will next lead a casting effort to fill nearly 40 available voice over parts for the film. "We are looking for real variety in voices," said Bourgeois. "The film is very emotionally charged, beautifully shot, and there is significant range in character and emotion playing out on the screen that must be complemented when it comes to our voice actors."
All primary voice overs will be recorded at Voice Coaches' main studios. The team will then travel to Los Angeles to record the film's narrator who is yet to be announced.
"Though the primary narrator has not been officially cast, the level of people considering the role is incredible and is a reflection of the quality and importance of the project," added Bourgeois.
All of us here at Voice Coaches are extremely proud to be a part of this amazing film project and to contribute to the ongoing journey of documenting American history.
Bookmark the permalink.