Class to Offer Taste of Voice Acting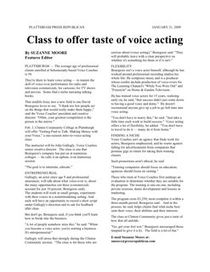 Class to offer taste of voice acting
By Suzanne Moore | January 2009
PLATTSBURGH — The average age of professional clients enrolled at Schenectady-based Voice Coaches is 50.
They're there to learn voice acting — to master the skill of voice-over performance for radio and television commercials, for cartoons, for TV shows and movies. Some find a niche narrating talking books.
That midlife foray into a new field is one David Bourgeois loves to see. "I think too few people act on the things that would really make them happy," said the Voice Coaches' president and creative director. "Often, your greatest competition is the person in the mirror."
Feb. 3, Clinton Community College in Plattsburgh will offer "Getting Paid to Talk: Making Money with your Voice," a one-session intro-to-voice-acting class.
The instructor will be John Gallogly, Voice Coaches senior creative director. The class is one that Bourgeois's company has put on at numerous colleges — he calls it an upbeat, even humorous session.
"The goal is to entertain, educate."
ENTREPRENEURIAL
Gallogly, an actor since age 9 and professional announcer, will talk about what voice-over is, about the many opportunities out there (commercials account for just 10 percent, Bourgeois said).
The students will work in small groups, experiment with their voices in a nonintimidating setting. And each will have an opportunity to record a short script under Gallogly's direction and to ask for feedback after class.
But don't go, Bourgeois said, if you think you'll learn how to break into the business.
"A lot of people somehow miss this," he said. "When you become a voice actor, you're starting a business. It's entrepreneurial."
Gallogly will stress that strongly during the Clinton Community session. "The class is for those who are curious about (voice acting)," Bourgeois said. "They will probably leave with a clear perspective on whether it's something for them or if it isn't."
FLEXIBILITY
Bourgeois isn't a voice actor himself, although he has worked around professional recording studios his whole life. He composes music and is a producer whose credits include production of voice-overs for The Learning Channel's "While You Were Out" and "Freestyle" on Home & Garden Television.
He has trained voice actors for 15 years, realizing early on, he said, "that success didn't just come down to having a good voice and demo." He doesn't recommend anyone give up a job to go full time into voice acting.
"You don't have to marry this," he said. "Just take a little time each week to build success." Voice acting offers a lot of flexibility, he added. "You don't have to travel to do it — many do it from home."
FINDING A NICHE
Voice Coaches isn't an agency that finds work for actors, Bourgeois emphasized, and he warns against falling for advertisements from companies that promise gigs in return for taking their training classes.
Such promotions aren't ethical, he said.
"Training companies should focus on education; agencies should focus on casting."
Those who train at Voice Coaches first undergo an evaluation to determine whether they are suitable for the program. The training is one-on-one, including private sessions, demo development and lessons in marketing.
The program costs $3,250; most complete it within a three-month period, Bourgeois said. And in the process, he said, helps clients find what niche best suits their voice, their abilities and their interests.
The class at Clinton Community gives just a taste of how that all unfolds.
"Go, get your feet wet," Bourgeois encouraged those tempted to give it a try. The field is a lot of fun."
E-mail Suzanne Moore at: [email protected]
Bookmark the permalink.