Speak Up!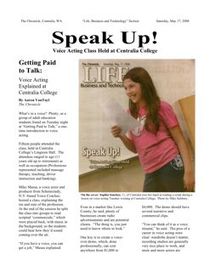 Speak Up!
By Aaron VanTuyl | May 2008
What's in a voice? Plenty, as a group of adult education students found on Tuesday night at "Getting Paid to Talk," a one-time introduction to voice acting.
Fifteen people attended the class, held in Centralia College's Lingreen Hall. The attendees ranged in age (11 years old up to retirement) as well as occupation (Professions represented included massage therapy, teaching, driver instruction and banking).
Mike Massa, a voice actor and producer from Schenectady, N.Y.-based Voice Coaches, hosted a class, explaining the ins and outs of the profession. At the end of the session he split the class into groups to read scripted "commercials," which were played back, with music in the background, so the students could hear how they'd sound coming over the air.
"If you have a voice, you can get a job," Massa explained. Even in a market like Lewis County, he said, plenty of businesses create radio advertisements and are potential clients. "The thing is, you just need to know where to look."
One key is to create a voice-over demo, which, done professionally, can cost anywhere from $1,000 to $4,000. The demo should have several narrative and commercial clips.
"You can think of it as a voice résumé," he said. The pros of a career in voice acting were clear: wardrobe doesn't matter, recording studios are generally very nice place to work, and more and more actors are working via phone from home. The schedule, he added, isn't hard.
"Do most voice actors work 40 hours a week?" he asked. "Probably not, unless they have a gambling problem."
The cons, however, are that finding work and breaking into the field can be tough. One actor, whom Massa said he knows, waited nine months before finding a job recording a segment for a state detention center that paid $50. Ten years later, the same actor has single gigs lined up paying around $30,000 a shot.
The key, he said, is to put yourself in a position to get work, through networking and making a good impression at the jobs you do find.
"You have to go to this, and make it happen," he said. "This is akin to starting your own business. This is an entrepreneurial event."
Voice actors also need to get the proper training, Massa said, which is what Voice Coaches can provide. Their training program, Massa explained, can be done over the phone, and starts at about $3000.
Jenny Wade, a retired Chehalis resident, said she enjoyed the evening presentation. "I think it was great," she said. "It gave (me) some insight of how this process works." The work, however, was slightly more technical than she had imagined.
"It would be a commitment," she said, of pursuing voice acting. "I'd need time to think about the time and the cost." Her own voice, however, was a pleasant surprise. "I was pleased," she said.
Gary Cowden, Centralia, brought his deep, distinct voice to the class. "It was excellent," he said. "He's very informative, and very exciting."
Listening to his own voice, however, wasn't quite what Cowden had expected. "I was disappointed," said Cowden, a mortgage loan originator. "I just sounded – not enthusiastic enough."
He added that he'll probably pursue his interest in putting his voice to work a little further. "I'm going to ponder it, definitely," he said. "I'll probably take some additional steps."
For more information on voice acting, visit www.voicecoaches.com.
Aaron Van Tuyl covers education, economic affairs and religion for The Chronical. He may be reached at 807-8237 or by e-mail at [email protected]
Bookmark the permalink.