VO Behind the Scenes – Batman: The Dark Knight Returns, Part 2
A few months back, we shared some behind-the-scenes info on the recording of DC's newest animated premiere film, The Dark Knight Returns, Part 1. Well, now DC has released the highly-anticipated follow-up film, The Dark Knight Returns, Part 2, and we have some great new behind-the scenes videos to share!
The first video (above) feature Peter Weller (best known for playing Robocop), who discusses his approach to the role of a grizzled, older Batman.
The next video features Lost and Person of Interest's Michael Emerson, showing off what it takes to turn into The Joker, as well as talking about his ability to play villainous roles.
Finally, the last clip features actor Mark Valley discussing how much fun it is to play a super hero!
And just because it's such a great picture, check out the photo below of Michael Emerson being directed by DC/Warner Brothers' longtime voice director and casting wizard Andrea Romano. Pretty cool, no?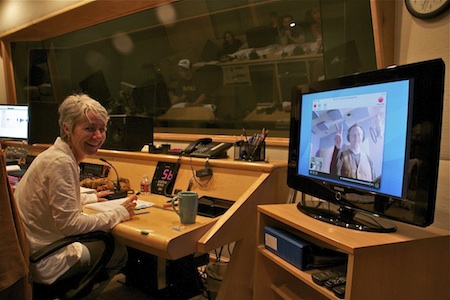 Related posts:
This entry was posted in VO Behind the Scenes. Bookmark the permalink.