VO Behind-The-Scenes: Batman's New Robin
Last week we presented an interview with David Selby, who plays Jim Gordon in the new Batman animated movie: The Dark Knight Returns: Part 1. This week, we have an interview with Modern Family star Ariel Winter, who gives voice to the first female Robin in the film!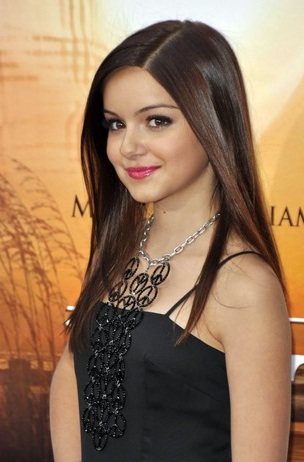 The young actress is no stranger to voice overs. She appeared in a previous DC Universe animated film in the Animated Original Short, Green Arrow. She has also appeared in Young Justice, ParaNorman, Ice Age: The Meltdown, Over the Hedge, Cloudy With a Chance of Meatballs, Phineas and Ferb, and The Penguins of Madagascar. Read on to hear about her experiences entering the world of The Dark Knight.
QUESTION:
Imagining many of your fans are experiencing Batman: The Dark Knight Returns for the first time, describe your character Carrie Kelly's place in the story.
ARIEL WINTER:
Carrie is sort of a street kind of gangster girl who lives in this shady part of Gotham City. She's always dreamed to meet her hero, Batman. One day she's walking with her friend Michelle, and they get mugged by the Mutants – but Batman saves her. So she then sets out to be Batman's partner in crime, er, crime-fighting. And eventually, she succeeds and becomes Robin.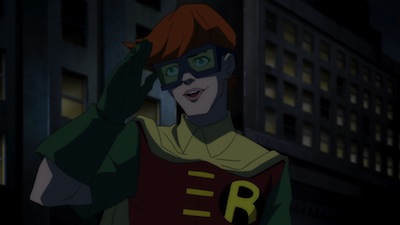 QUESTION:
How do you see Carrie's sense of Batman?
ARIEL WINTER:
I think Carrie feels super ecstatic when Batman includes her in his little facade of Batman and Robin. She feels so honored – it's a really big deal for her. I think she's not really not just a crime fighter, though – she's kind of like his daughter. She really cares for him, and he really cares for her. They're like family.
QUESTION:
Are there similarities between Ariel Winter and Carrie Kelly, and how did that help/hinder getting into character?
ARIEL WINTER:
Carrie and I share a lot of characteristics. We both like crime fighting. We both like Batman. We would both blow off school for crime fighting. (giggles) Actually, no, I would do my school during the day and then crime fight at night. It wasn't really hard getting into Carrie's mindset because I've always wanted to play the sort of Tomb Raider, Kick-Ass role where the girl is really the brains behind the power. So I was excited when I got to do it. I just devoured the script. I was surprised. It was pretty violent. I read it and I saw some of the things and I was like, "Woah! That is so cool." I'm a big fan of that action, thriller sort of thing, so it was exciting for me to read.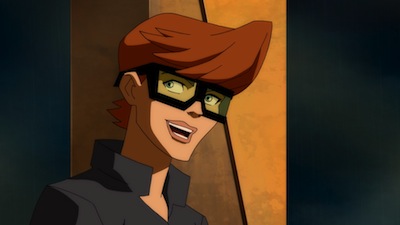 QUESTION:
How important to you is being the first female Robin?
ARIEL WINTER:
It's really cool to be the first female animated Robin. There's been so many amazing boys, but I think I can just bring something new that the fans have never experienced. So I'm really honored to be part of such a fantastic project. Female empowerment really is important to me. I'm a big nerd of the books from the 15th  Century and 16th Century, when the men had all the power and the women had none of it. So to have Robin be a girl is cool because it gives girls a chance to know that they can do everything boys can do, and even better. No offense (laughs), but it's true.
QUESTION:
Are you into comic books?
ARIEL WINTER:
I'm an avid reader, so anything I can read is awesome. I go into comics stores and I can be in there for hours. It's truly amazing when you open a comic book, because you're immediately sucked in from the first line. The writing, the graphics, the artwork – it makes you feel like you're inside the story.
QUESTION:
You're 14 and acting all the time. How do you balance acting with education?
ARIEL WINTER:
You have to be really smart to be an actor. It's not just saying lines. You have to know the thoughts behind each line, to know what you're saying. So I think it's very important to get an education. I really feel school is important.
No related posts.
This entry was posted in VO Behind the Scenes. Bookmark the permalink.