VO Behind-The-Scenes: Batman The Dark Knight Returns
Warner Brothers and the DC Universe have just released another animated premiere movie, this time based on the influential graphic novel Batman: The Dark Knight Returns. As usual, we're happy to present an interview (courtesy of Warner) with one of the key voice actors in the film, David Selby, who plays Commissioner James Gordon.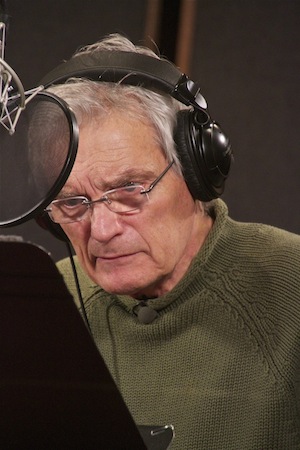 QUESTION:
Having spent several hours in his mind, how do you see Police Commissioner James Gordon in this film?
DAVID SELBY:
Because Bruce Wayne is Batman, and even though we all want to be heroes, Gordon is willing to take a quieter, more backseat role. I think he's persistent, he's calm. He's a very practical man, like certain presidents. Lincoln was a very pragmatic guy, and I think Gordon is a very pragmatic commissioner. Gordon is the type of guy that would think, "If I've gotta do it, and it's going to make it right, and I look out and I know that my wife is going to be fine, and the children are going to be fine, then if a certain kind of justice is required to do this, I can live with it." That's my kind of Gordon. A very strong, practical guy.
QUESTION:
In this film, James Gordon is 70 years old and about to retire. David Selby is now 70 years old. Usually it doesn't matter in voice acting, but does that age similarity help increase the bond between actor and character?
DAVID SELBY:
What are you saying? (laughs) That I've been playing this game for 50 years? (laughs harder) Well, I guess that's true. You know the frustrations, the thinking of "Okay, I've got a few years to go, and there's still one thing I want to do." Maybe I want to play Macbeth. I don't know. There's definitely some parallels. Really, though, it's the whole life experience – that's the thing that ties me to Gordon. Having been around and seen what we've seen. I understand his frustrations. My God, all you have to do is pick up a bloody newspaper. It's hard to not get frustrated. Sometimes the best thing to do is to avoid the paper in the morning.
QUESTION:
Was there a centering emotion you used in James Gordon to help you focus on his motivations?
DAVID SELBY:
For Gordon, what he wants to do more than anything in the world is that he wants to leave the world a little better place than when he came into it. And he thinks of how awful it would be to live your life and not be able to do that. I like Gordon. Sometimes you have to draw the line in the sand, the morality line, and each of us has to decide how far you're willing to go for success. Now if you're battling the Mutants, you can go a long way. You can step over that line, as long as you know why you're doing it. That's my little take on that.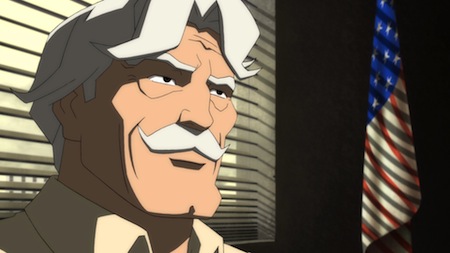 QUESTION:
You had more than 300 episodes to get to know Quentin Collins for Dark Shadows. You spent 209 episodes creating Richard Channing for Falcon Crest. Today you had about four hours to become James Gordon. How do you develop a character that quickly?
DAVID SELBY:
You don't. You just sort of depend upon Andrea (Romano) and Bruce (Timm), because they know this territory far better than you. I did do a little research, though. I asked my son, who is a great aficionado of Frank Miller and all of these things. That was my first call. He gave me a great rundown, so there was a little preparation. So mostly you put yourself in the hands of those that know the character, and learn from their experience.
QUESTION:
So your son is a Frank Miller fan. Do you have newfound street cred in the family?
DAVID SELBY:
You can't imagine. My son-in-law is a big fan, too. I'm in like flint now. I couldn't have done better than to be able to make that call. "Do you know Dark Knight?" "What do you mean, do I know Dark Knight? Who do you think you're talking to?" "Well, I'm playing the Commissioner." "You're playing James Gordon? You're playing Gordon?!? Commissioner Gordon?!?!?" I never mentioned Gordon's name. (laughs) I just said the Commissioner. Oh my God. How special is that? I like that.
QUESTION:
Do you like playing the villain?
DAVID SELBY:
I'm not complaining – a lot of times the villain is the most interesting character. But I've played some awful people. I played a character who got rid of his own sister. In doing these characters, I like them, and you have to get your audience on your side somehow. They have to understand where you've come from. And maybe, just maybe, they'll hang in there with you.
Related posts:
This entry was posted in VO Behind the Scenes. Bookmark the permalink.