Voice Overs Of The World: The Voice Over Guy
This week, we have three new ads that don't so much have a common theme as a common style: the voice over guy!
We'll start with the Mother's Day themed ad, since that holiday was last weekend. The first ad (above) from Mr. Clean is from that classic loud, semi-announcer-y school of delivery, but it's clearly done that way on purpose.
The ad is sort of a parody in and of itself, challenging traditional male/female social roles. The voice actor takes the old-time announcer style and subtly converts it into what we see more often today: the voice over that's announcery, yes, but winking at itself at the same time.
I love this next commercial for Sunrun Solar Power, not just because it has a great voice over, but because the on-camera talent actually address the voice actor directly!
The whole spot is actually a conversation between the on-camera talent and the voice actor, but my favorite part is towards the end of the spot, when the man in his garage looks at the camera and says, "Shhh. Voice guy, I'm trying to build something here." Clever, funny, and perfectly delivered by both the voice actor and the on-camera talent.
And finally, we have a new Visa commercial spotlighting The Olympics. As always, it's voiced by Morgan Freeman, and I really only share it here because, well, it's Morgan Freeman. If there's anyone out there (besides James Earl Jones) who's as well known for his voice overs as Morgan Freeman is, I don't know who it is. As usual, Mr. Freeman does a bang-up job, so I figured you might enjoy seeing — and hearing — it here.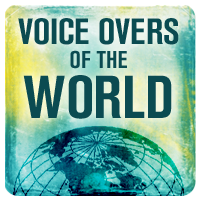 Related posts:
This entry was posted in Voice Overs of the World. Bookmark the permalink.