VO Behind-The-Scenes – Eliza Dushku in Batman: Year One
Last week, we featured an interview with Bryan Cranston about his role in the DC Animated Universe's latest animated feature film, Batman: Year One. Here, actor Eliza Dushku (Buffy The Vampire Slayer, Dollhouse, Tru Calling) talks about voicing the infamous Catwoman.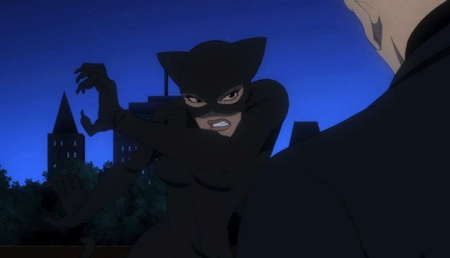 QUESTION:
You seemed to easily groove into this character. Where did you go to discover who Selina Kyle is?
ELIZA DUSHKU:
I found the attitude for this character deep down in the Eliza Dushku archive of bad girls [laughs]. They're in there somehow, somewhere, for some reason, and I tap into them when I need them. They're characters with an edge. I grew up with three older brothers in Boston, and my mother was a single mom. So I spent my early years running the streets with the boys. After I fell into the film and television business, I went back to public school in Boston, and kids didn't think it was that cool. So I had to kind of fight for my street cred. I adopted this really sort-of-hard exterior, and got in a couple fights. So by the time I graduated high school and came out to make Buffy The Vampire Slayer, it was really art imitating life. I was fighting for my life.
QUESTION:
Does being part of the Batman mythology have any special significance to you?
ELIZA DUSHKU:
It's incredible being part of the Batman legacy. It's iconic. It's Batman. I grew up with brothers and we would play Batman and Robin. Well, I would always try to get in and play, but usually they would let me join the game as some character or another, and they would immediately kill me off [laughs]. So, I used to watch from afar. So now look brothers – I get to be a part of this and you don't [laughs].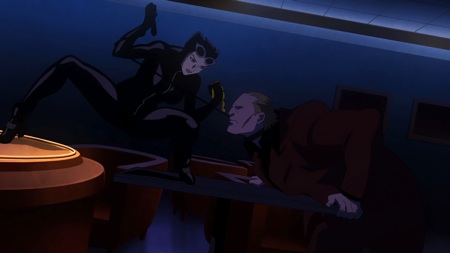 QUESTION:
Did you enjoy attempting to bring a comic book to animated life?
ELIZA DUSHKU:
I love that in the DC Comics world, the stakes are high from the get-go. A week ago, I was watching The Dark Knight. I love what they did, but it's different from what we did for Batman: Year One and Catwoman. When you're recreating comics, there's different intonations and character strengths that come out. That's what I was focused on bringing forth. It's a little exaggerated, a little nuanced, a little more dramatic. But it's also full of layers and seething with this very cool energy.
QUESTION:
Do you enjoy voice acting?
ELIZA DUSHKU:
I've had a great time doing voice overs. It started with video games – the first was a Buffy The Vampire Slayer video game – and really I did it because I thought it would be cool to have my nephews be able to play me on their video games. They won't talk to me right now – they're at that stage of being a teenager – so I thought maybe we could have a connection through the video games. I did a video game called Wet last year that was a lot of fun. Then I have some friends over at Family Guy. And then, more and more, I've been sort of reaching out and peeking around to see what things are available to build my voice over resume. It's fun for me, and completely different from what we do in live action. Voice acting is really invigorating. It still feels like you have to bring the same amount of character and energy into the room. And then to watch it morph into the animated version is really kind of magnificent.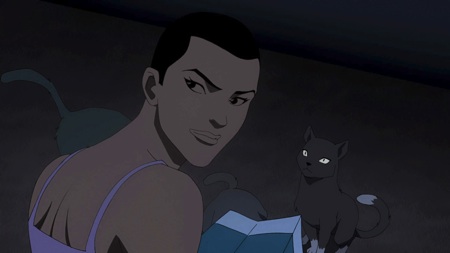 QUESTION:
Was there anything you wanted to personally add to the character that made the experience of voicing Catwoman that much more fun?
ELIZA DUSHKU:
Well, I wanted to purr, and they let me purr – so that was really like getting a bit of extra credit. I wanted to get in there and really emphasize her relationship with her cats, as I think it's very feral and very significant. And everyone was really cool about letting me play around with my ferocity.
QUESTION:
What is it you enjoy most about working in this genre?
ELIZA DUSHKU:
I love my fanboys. Without my fanboys, so many of the projects that I've done wouldn't have had the extraordinary life that they've enjoyed. The fanboys have been there with enthusiasm and the support, and their loyalty and their love has made this so rewarding and exciting. It makes me just want to give them more, more, more, more.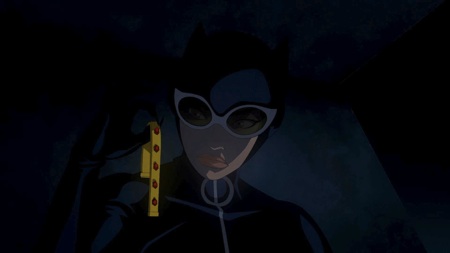 QUESTION:
The Whedonverse has provided many actors for the first 16 DC Universe Animated Original Movies. What do you think makes Joss Whedon's casts fit so nicely in the DC Universe?
ELIZA DUSHKU:
Joss is such a die-hard comic book fan himself that there's a natural connection. And when you play in his worlds – worlds that are fantasy-related with all this metaphorical, deep magic going on, it sort of preps you to think the unthinkable and go places with your character that most projects don't give you the opportunity to do.
Related posts:
This entry was posted in VO Behind the Scenes. Bookmark the permalink.