Voice Overs Of The World: This Orange Summer
Here in the U.S, we're not too familiar with Orange, but in Europe they're a telecom giant. They also do some great advertising, some of which I've mentioned in this column in the past. This summer, they're doing a really interesting thing utilizing social media phenomenon Twitter and a professional voice over artist. Watch the video below to see what it's all about.
Here we have a great meeting of technology and voice overs. I love what Orange is doing with this, capitalizing on the popularity and "now-ness" of Twitter, while at the same time utilizing a tried and true advertising method — the voice over — to get people involved in interacting with their brand.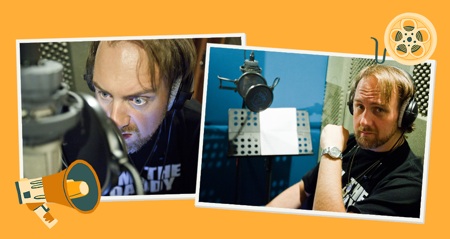 Here are a couple of pictures of their professional voice talent, Mitch, who has now recorded over 500 of these tweets in a movie-trailer-parody style of voice over.

What do you think? Pretty cool idea, no?
Related posts:
This entry was posted in Voice Overs of the World. Bookmark the permalink.