When You Wish Upon A Star
I hate having to write two obituaries back-to-back, but all of us here at Voice Coaches were very sad to hear about the passing of Eddie Carroll, the voice of Disney's Jiminy Cricket for the last 37 years. Mr. Caroll took over the role after Cliff Edwards, the originator of the voice, died in 1973 and has portrayed everyone's favorite cricket ever since.
Mr. Carroll starred as Jiminy Cricket in movies and television shows such as Mickey's Christmas Carol, Jiminy Cricket's Christmas, Disney's Villains Revenge, The House of Mouse, and more recently even video games such as Disney/Square's Kingdom Hearts and Kingdom Hearts 2. In addition, Mr. Carroll portrayed Jiminy Cricket in a number of promotional videos and advertisements for Disney.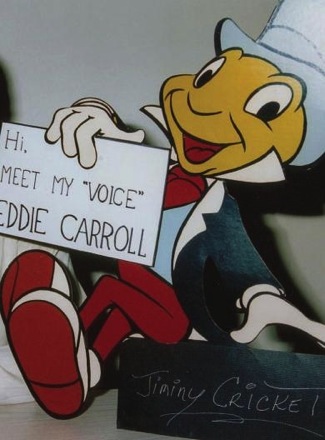 Mr. Carroll got his start in small television roles in the 1950s, but the part of Jiminy Cricket became his defining role over the past 40 years. In recent years, in addition to playing Jiminy Cricket, Mr. Carroll has been starring in a one-man show where he portrayed the great entertainer Jack Benny. Disney has been hit hard in the past couple of years, with Wayne Allwine, the voice of Mickey Mouse for over 30 years, passing away last year.
You can listen to a radio interview with Mr. Carroll. Below is a clip of Mr. Carroll at work as Jiminy Cricket.
Related posts: