Stephen King: Voice Over Fan
Stephen King, in addition to being one of the best selling authors of all time, also writes a weekly column for popular magazine Entertainment Weekly. Now he's added to that list of credits a new one: voice over fan.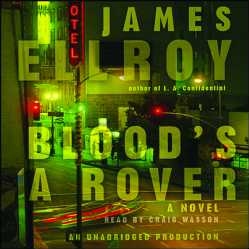 The author's latest "The Pop of King" column is titled, "Big Audio Dynamite: The Blood's A Rover Audiobook Rocks, Thanks to Many Wild Characters — and One Stellar Actor." In it, Mr. King talks about how much he enjoyed the latest audiobook adaptation of author James Ellroy's latest book, Blood's a Rover. And while he credits the book's characters and many twists and turns, he also pays special attention to the performance of voice actor Craig Wasson. Mr. Wasson has read other Ellroy books before, in addition to narrating the audiobook versions of John Grisham's An Innocent Man and John Keel's The Mothman Prophecies, but this particular performance has apparently blown the author away.
In his column, Mr. King writes, "[Wasson's] a fine actor, but he's a mad hot audio reader. The unabridged audio version of Blood's a Rover is, quite simply, the best audiobook I've ever heard. And I've heard hundreds. Good readers interpret novels and give them life. Great readers seem to live inside the books they're performing. Wasson is one of those. The audio of Blood's a Rover is 26 hours long and his voice held me mesmerized for that whole time."
Mr. King goes on to say, "By the time I got to the eighth or ninth CD, I felt as if I were watching a movie with one guy playing all the parts… and knocking them all dead. Most notable is Wasson's characterization of FBI director Hoover. Wasson also gives great Nixon."
Voice Actor Craig Wasson
Mr. King wraps up with the following praise, "Critics of audiobooks… almost have to be silenced by a performance of this caliber. Spoken aloud by Craig Wasson, Blood's a Rover lives and breathes. For 26 hours, I never felt so privileged to be in my car."
I haven't heard the Blood's a Rover audiobook personally yet — although I'm definitely going to check it out — but it's great to see such a widely read media outlet focusing on a notable voice over. Congratulations to Mr. Wasson on his success!
Related posts: