Looking Back And Looking Forward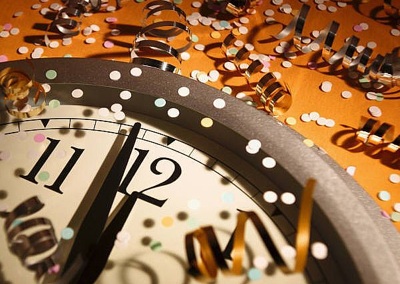 This is officially my last blog post of 2009. The next time you read words that I've written, it will be 2010. I thought this seemed like the perfect time to look back at 2009 and also look forward into 2010.
There were a lot of newsworthy events in the VO field in 2009, so I thought we'd take a look back at five of the most notable and important news stories of the past year.
5.) CNN Brings Voice Over Acting to the forefront. Back in May, CNN ran a news story called "10 Jobs Cooler Than You." On the list? Voice Actor! To quote the article (you can read it by clicking here), "Everyone knew Don LaFontaine, the infamous voice behind thousands of movie trailers, TV advertisements and network promotions. Voice actors also loan their chops to movies and cartoons. Wouldn't it be neat to have your voice be familiar to the whole world?" Couldn't have said it better myself.
4.) The 2009 Audie Awards. Normally, an awards show isn't that big of a deal. Even when they relate to voice overs, such as the American Publishing Association's Audie Awards (honoring achievements in audiobook recordings), they still aren't necessarily considered news. But this year's awards, the 14th Annual, were the biggest yet, drawing a record 1,000 entries from audio publishers, which just goes to show how successful and diverse the audiobook field  currently is. There are 31 categories in the awards, and almost every one of them reflects an achievement in voice acting. You can read the entire list of nominees and winners by clicking here. These are the only awards in the country solely devoted to spoken-word entertainment, and the fact that they're growing year after year is great news for voice actors.
3.) The Rise of Motion Comics. It's been a little while since there's really been a new medium to take advantage of voice overs like Motion Comics. Internet animation saw a huge rise in the early 2000s, but in the  past few years, one of the most exciting new venues for VO work has been Motion Comics. Due to  increasingly popular comic book-based movies such as The Dark Knight, Spider-Man, Watchmen, etc., the major comic book publishers (and many independent ones) have begun creating motion comics. These are semi-animated versions of existing comic books that add animated special effects, sound effects, and voice actors performing the dialogue of all of the characters. These are incredibly well-produced videos, and they've become extremely popular online and especially on mobile devices, such as the iPhone. Check out scenes from the popular Astonishing X-Men Motion Comic below.
2.) Fond farewells. In 2009, it we lost a lot of talented actors and creators, especially ones with careers or an impact in voice acting. Brittany Murphy, Roy Disney, Connie Zimet, Soupy Sales, Fred Travalena, Wayne Allwine, Patrick Swayze, Bea Arthur, Billy Mays, Danny Gans, Ed McMahon, Dom Deluise, Ted Kennedy, Harve Presnell, Karl Malden, Ricardo Montalban, Ron Silver, and Walter Cronkite all had varying degrees of experience or impact in the voice over world, and all of their voices will be missed.
1.) The Internet. It seems like the internet is reinventing the world every couple of months as it is, but 2009 was the year that I really saw the voice over field explode online. From social media sites like Twitter and Facebook (which are filled with voice over actors, producers, and studios) to personal websites and blogs to the proliferation of voice over-related videos on sites such as YouTube, the internet has truly become an amazing marketing tool for today's working voice actor. The internet's been around for years, but 2009 is the year that voice actors started to really put its full potential into overdrive. And without it, how would we discover great videos like this one giving us a terrific behind-the-scenes-look at the creation of the voice overs for a hit video game?
Looking forward, as I mentioned in the latest episode of Voice Coaches Radio, I'm not really big on New Year's resolutions, but I thought maybe I'd throw a few out there for fellow voice actors who might be looking for a little motivation heading into 2010. So, in no particular order, here are some New Year's resolutions for voice actors:
1. I will spend at least 15 minutes a week marketing myself.
2. I will remember that every "no" is one step closer to a "yes."
3. I will tell everyone I know that I am a professional voice actor; you never know where a potential job might come from.
4. I will remember that voice acting is fun, and I will have fun doing it.
5. I will remember that Rome wasn't built in a day.
6. I will continue to practice, practice, practice!
7. I will try something new.
8. I will continue to remain positive, motivated, and upbeat.
9. I will believe in my own potential for building success.
9 1/2. I will read the Voice Coaches Blog every week. (Okay, okay,… sorry. I couldn't resist that one!)
9 3/4. I will listen to Voice Coaches Radio every week. (Okay, I'll stop now. I promise!)
10. I will see every challenge as an opportunity.
So that wraps up my blogging efforts for 2009. I'll be back next week to kick off a new year — and a new decade — of Voice Over fun, news, and information! Thanks for reading in 2009!
From all of us here at Voice Coaches, we wish you a happy, healthy, and successful New Year!
No related posts.
This entry was posted in Education, Motivation, News. Bookmark the permalink.