Go Team!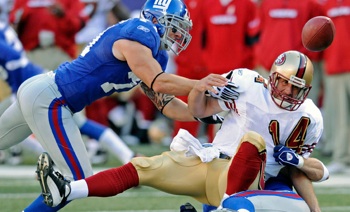 Some of you may have already noticed this, but it's football season.
Now, I happen to be a big football fan, but I also happen to be a big San Francisco 49ers fan. The problem with that is that I live smack dab in the middle of New York Giants territory. Yep, most of my friends, my co-workers, and even my wife are all Giants fans. The Niners are hoping to end a six year losing streak this season (and that's a big "if"), but even through all of the pain and suffering of the past six seasons, I've remained a die-hard fan. Surrounded by Giants fans who are constantly telling me that I should switch teams or give up on the Niners or become a Giants fan, I hold fast and stand by the team I've supported for over two decades.
I know I'm not alone in that. A lot of people are like me in that regard, supporting teams that have been perennially awful. Heck, even the Detroit Lions still have  fans. If a team gets out there and makes an effort, even if they lose people will still stick with them through thick and thin, no matter what their friends or family might say.
All of this football rivalry got me thinking about people who are starting out in voice acting. I can't tell you how many people I've watched give up on their marketing efforts–many times after just a few months–because their friends and family aren't supportive, or because those same people tell them that they can't be successful. What boggles my mind is how somebody can stick with a losing sports team for year after year after year, but as soon as they come up against some adversity in real life, they throw in the towel. How does that make sense?
So stick with your team; this time, the team is you. If there are people around you who are naysayers, just put them in the same category as the people who make fun of your favorite sports team. After all, it took the Boston Red Sox 86 years to win a World Series, and I don't know of a single fan in Red Sox Nation who didn't stick by them throughout it all.
If sports fans can stick by a losing team for eight decades, don't you owe it to yourself to do the same?
No related posts.
This entry was posted in Motivation. Bookmark the permalink.