Gary Cole Steps Into The Booth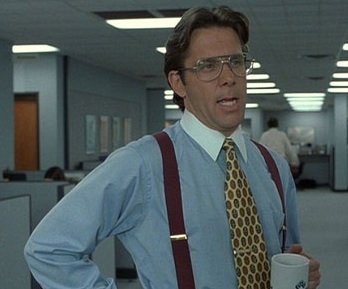 Gary Cole is a world-recognized character actor. His resume is too extensive to list everything he's done here, but some of his highlights include roles in Dodge Ball, The West Wing, Talladega Nights, The Brady Bunch Movies, Pineapple Express, Desperate Housewives, In the Line of Fire, and much more. Of course, his most famous role is probably as Bill Lumbergh in the cult classic Office Space.
What's less well-known is that Mr. Cole is also a very busy voice actor, working on several hit shows such as Kim Possible, Harvey Birdman: Attorney At Law, King Of The Hill, Justice League, and Batman Beyond. I recently had the chance to speak briefly with Mr. Cole and I asked him about his experiences working in the recording booth.
MS: How is it different working behind the microphone versus being in front of the camera?
GC: Well, a lot of times you're working isolated. You know, very few times are you actually working with the other people you're doing scenes with. The scheduling gets complicated, trying to get everyone together.
MS: Do you enjoy the work?
GC: It's fun! Again, it's creating a character, reacting to material… and the great thing is you can just roll out of bed and get there!
Leave it to Gary Cole to find the true joy in doing voice over work!
Related posts: