A Comedy Legend Leaves Us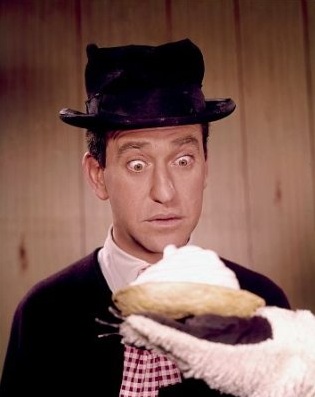 After over 5,000 live television appearances and countless pies to the face, comedy legend Soupy Sales has passed away at the age of 83.
Best known for his comedy routines including White Fang (the meanest dog in the United States) and Black Tooth (the nicest dog in the United States), the pie-in-the-face gag, and his seven-year stint on "What's My Line?", Mr. Sales was also quite skilled behind the microphone. In the mid-'60s, he released two comedy music albums that were Top Ten hits. He also created the voice of the famous video game character Donkey Kong for the 1980′s animated series "Saturday Supercade," where he worked alongside such voice over legends as Peter Cullen, Frank Welker, and Nancy Cartwright.
Later in his career, Sales took his skill behind the mic into radio, joining WNBC-AM in 1985, where he appeared (somewhat ironically) between Don Imus and Howard Stern. It was a return to his roots, as Sales's career after college began with a two-year stint as a DJ before he moved into television.
Thanks for all the laughs, Soupy. Hope you enjoy that pie up in the sky.
Related posts: