A Voice For The People
The world was saddened today with the passing of Senator Edward "Ted" Kennedy, who passed away on August 25, 2009.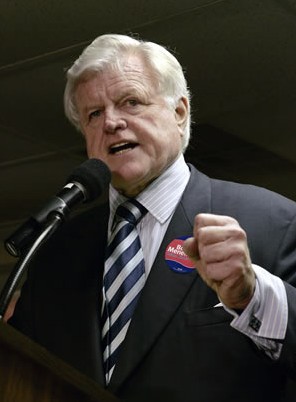 Though best remembered for his commitment to serving the people of the United States, he was also known as a powerful voice and public speaker. What many people might not know is that Senator Kennedy even recorded some voice overs, being featured as the narrator of Aaron Copeland's "A Lincoln Portrait" at Symphony By the Sea's opening night concert. He also provided narration for his own life story ("Teddy: In His Own Words") on HBO, part of an informal series of documentaries on the Kennedys.
In addition to serving in the United States senate for over 40 years, Senator Kennedy was well known for his oratorical skills. Throughout decades of speeches and debates, Senator Kennedy was one of the most respected (and feared, by his opponents) public speakers in politics. Kennedy was part of a family known for its legendary speech-making skills. Both of his brothers, President John F. Kennedy and Senator Robert F. Kennedy were widely praised for their oratorical skills.
One of Senator Kennedy's most famous moments came when he gave the eulogy for his slain brother, Robert F. Kennedy, in which he said, "Some believe there is nothing one man or one woman can do against the enormous array of the world's ills. Yet many of the world's great movements, of thought and action, have flowed from the work of a single man. It was a young Italian explorer who discovered the New World, and the thirty-two-year-old Thomas Jefferson who proclaimed that all men are created equal. These men moved the world, and so can we all. Few will have the greatness to bend history itself, but each of us can work to change a small portion of events, and in the total of all those acts will be written the history of this generation. It is from numberless diverse acts of courage and belief that human history is shaped."
Perhaps Senator Kennedy's outlook and speaking skills are best exemplified in the concession speech he gave in his failed bid to win the Democratic Party's primary nomination against Jimmy Carter in 1980:
"Long after the signs come down, and the crowds stop cheering, and the bands stop playing, may it be said of our campaign that we kept the faith. For me, a few hours ago, this campaign came to an end. For all those whose cares have been our concern, the work goes on, the cause endures, the hope still lives, and the dream shall never die."
Thank you for a lifetime of service, Senator. Rest in Peace.
No related posts.