Curious About Making a Living on Voice-Overs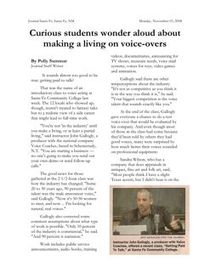 Curious about making a living on voice-overs
By Polly Summar | November 2008
It sounds almost too good to be true: getting paid to talk?
That was the name of an introductory class to voice acting at Santa Fe Community College last week. The 12 locals who showed up, though, weren't treated to fantasy tales but to a realistic view of a side career that might lead to full-time work.
"You're not 'in the industry' until you make a living, or at least a partial living," said instructor John Gallogly, a producer with the national company Voice Coaches, based in Schenectady, N.Y. "You are starting a business — no one's going to make you send out your own demo or send follow-up calls."
The good news for those gathered at the 2 1/2-hour class was how the industry has changed. "Some 20 to 30 years ago, 90 percent of the talent was the male announcer voice," said Gallogly. "Now it's 50-50 women to men, and now … I'm looking for natural, real voices."
Gallogly also corrected some common assumptions about what type of work is possible. "Only 10 percent of the industry is commercial," he said. "And 90 percent is narration."
Work includes public service announcements, audio books, training videos, documentaries, announcing for TV shows, museum needs, voice mail systems, voices for toys, video games and animation.
Gallogly said there are other misperceptions about the industry. "It's not as competitive as you think it is in the way you think it is," he said. "Your biggest competition is the voice talent that sounds exactly like you."
At the end of the class, Gallogly gave everyone a chance to do a test voice-over that would be evaluated by his company. And even though most of those in the class had come because they'd been told by others they had good voices, many were surprised by how much better their voices sounded on professional equipment.
Sandra Wilson, who has a company that does appraisals in antiques, fine art and folk art, said, "Most people think I have a slight Texas accent, but I didn't hear it on the tape at all." Wilson moved with her family from Texas to Santa Fe when she was 5.
Wilson, like most of those in the class, was not planning to give up her day job for a new career. "But it's something I'd always thought of doing," she said. "I acted in plays in high school and took an acting course in college.
"But I've been too self-conscious," Wilson said. "It's finally, `Oh, what the heck, I'll do it.' "
David Bourgeois, president of Voice Coaches, said last week, "I think when you look at voice acting, it falls under the guise of something they've always wanted to do. But things that people have always wanted to do tend to go to the back burner. There's always a reason to not do what you always wanted to do."
Marcie Davis could relate to that sentiment. Davis, who has an organizational development consulting firm, said, "I've done a couple of narrations for some of the projects we've worked on, training videos, and always just thought it would be fun."
Davis said taking the class is part of what she enjoys about the community college's offerings. "I can dabble in something I know nothing about," she said.
Gallogly offered all the students professional critiques by phone from Voice Coaches the following day if they were interested. Davis took him up on the offer. "I was surprised he thought I could do children's voices, although I've always wanted to narrate children's books," said Davis, who admitted her voice had a childlike quality to it.
Based on the class and her evaluation, astrologer Atma Devi decided to sign up for a continuing class with Voice Coaches, available by telephone and the Internet. She was told she had a good voice for travel programs, narrative material, audiobooks and commercials for luxury items. "It all resonated with me," she said.
"I came initially because I could learn something about using my voice," said Devi, who co-hosts a Saturday program, "Moonwise," on KSFR-FM, Santa Fe Public Radio. She said the community college class inspired her and took her "out of her box," giving her some new possibilities.
"I did not know about this actual way you can make a living," said Devi. "I've got a pretty good BS detector, and I liked his directness and his honesty. What he said about being a professional and showing up and taking action are all things I do in my own life."
The $29 course, "Getting Paid To Talk," will be offered again in April 2009, according to Deborah Carr, program administrator in continuing education with Santa Fe Community College. For more information, contact Carr at dcarr@sfccnm.edu.
Bookmark the permalink.